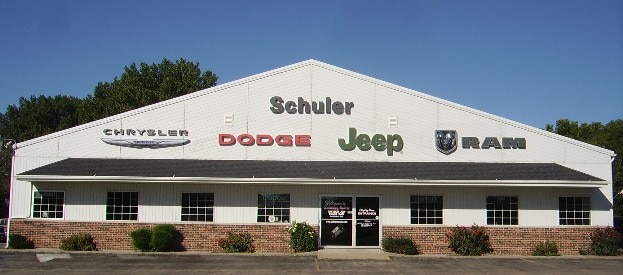 CELEBRATING 66 YEARS IN BUSINESS!!

The history of Schuler Motors, Inc.
Schuler Motors, Inc. was started back in 1949 by Eddie & Pauline Schuler.  Eddie was a multi-faceted man who graduated from electrical school in Chicago, IL and became an entrepreneur.  He began by hauling milk for a local company in 1938 and eventually had his own milk company, Schuler Superior Milk.  After expanding his business to 150 farms he sold it in 1948.  He also owned a welding and repair shop in Garden Plain IL.  There he invented a variety of farm products.  He invented the Master Farmer fertilizer sprayer which he later sold to an engineering company.  Then he invented the more successful Master Farmer water pump, which he sold for 30 years.  It could pump water from almost anything.  He was very proud of this creation.  You can still find these water pumps around the area today! He was even featured in Farm Show magazine To read the Farm Show article click here.  For a few years he was even switching gasoline engine powered vehicles into waste oil burning diesels.  He was featured in the Farm Show magazine for this as well.  To read the Farm Show article click here.  To this day we still get phone call and letters requesting Eddie to give them more information on how he accomplished this.
In June 1949 Eddie opened the dealership Eddie Schuler.  We were first located at 229 East Main Street in Morrison.  The second location was then 206 West Main Street, where the Fire Station is now located.  In the mid 1960's Eddie and Pauline purchased the land on which we are located now at 727 West Lincolnway.  In 1967 he added a 14 bay service shop and a 2 car showroom.  Twenty years later he expanded the showroom to display 10 cars.

Eddie was also very proud to have taken part in several Great American Races and in June 1976 the Around the World Auto Race from Istanbul, Turkey to San Francisco, California in a 1914 Dodge Touring car with his son Mark. They won the Grand Champion trophy. They were also equipped with some of the first GPS tracking technology.  NASA equipped their car with a 20 pound electronic package to test the ground capabilities of NASA's orbiting Nimbus six satellite. 

Grand Champion of the 1976 Around the World Auto Race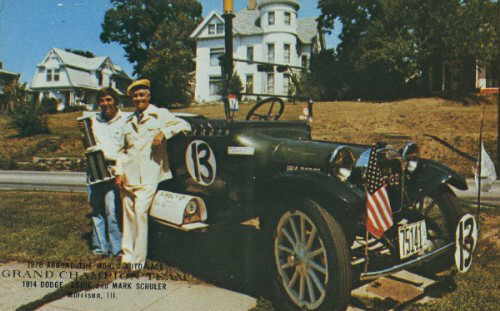 All eight of Eddie and Pauline's children (Patricia, Linda, Virginia, Beverly, Eddie Robert, Mary, Sara and Mark) have worked in the family business and contributed greatly to its success.  Eddie's son Mark, currently owns and operates Schuler Motors, Inc. today. Eddie and Pauline have both passed away but their stories and wonderful personalities live on.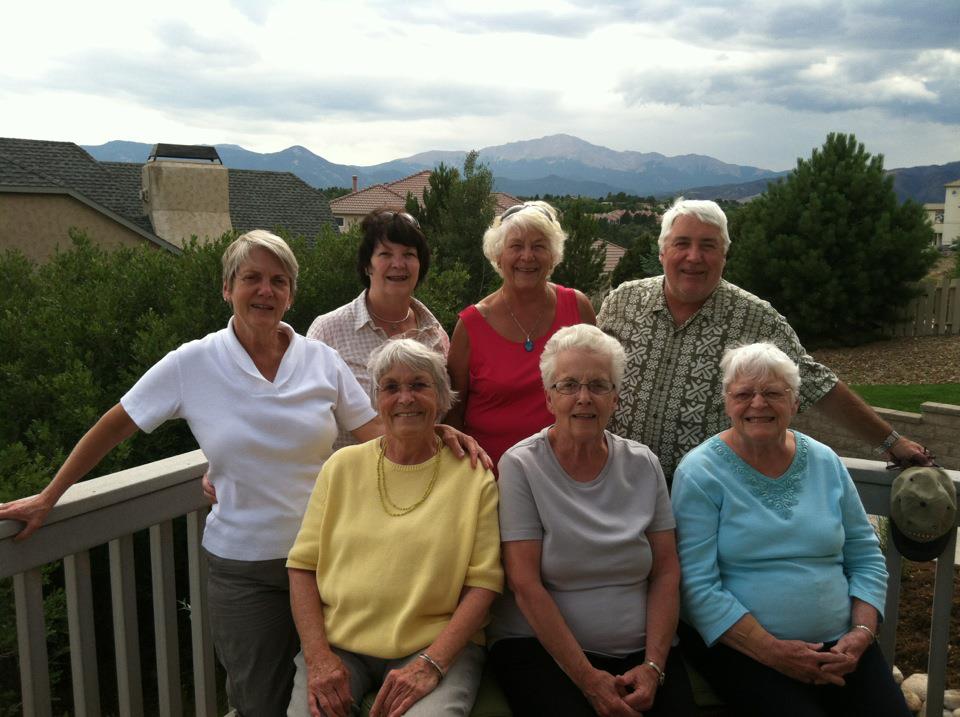 Pictured are the Schuler siblings at their last reunion.

                     Front row: Beverly Bealer, Virginia VanZuiden ( now deceased), Patricia Collins

                Back row: Mary Snyder, Sara Vlajcic, Linda Edwards and Mark Schuler
 
Eddie and Pauline's son Mark owns and operates Schuler Motors, Inc. today, which celebrated 60 years in business in 2009!! Mark is a graduate of Northwood University in Midland, MI.  Mark serves on the Morrison Hospital Board of Directors as the Secretary/Treasurer and has been a member since 1996. He is also a member of the Morrison Rotary Club. He enjoys antique cars (collecting and restoring), golf, volunteering, and fishing with his sons. He has been married for over 25 years to Susan, and has three children Megan, Zach, and Clayton. Susan is a Registered Nurse, Megan is married and takes care of her two daughters, Zach is married and employed by the United States Department of Defense and Clayton is a Junior High Teacher.  Mark has several antique vehicles that previously belonged to his father, the 1914 Dodge pictured above and a 1924 Chrysler which you can see in the showroom at Schuler Motors.  Both vehicles represent the first year of production in 1914 for the Dodge brand and 1924 for the Chrysler brand. Mark drives the 1924 Chrysler in most of the local area parades.  As his father did years ago. 

Eddie Schuler driving in a Morrison parade many years ago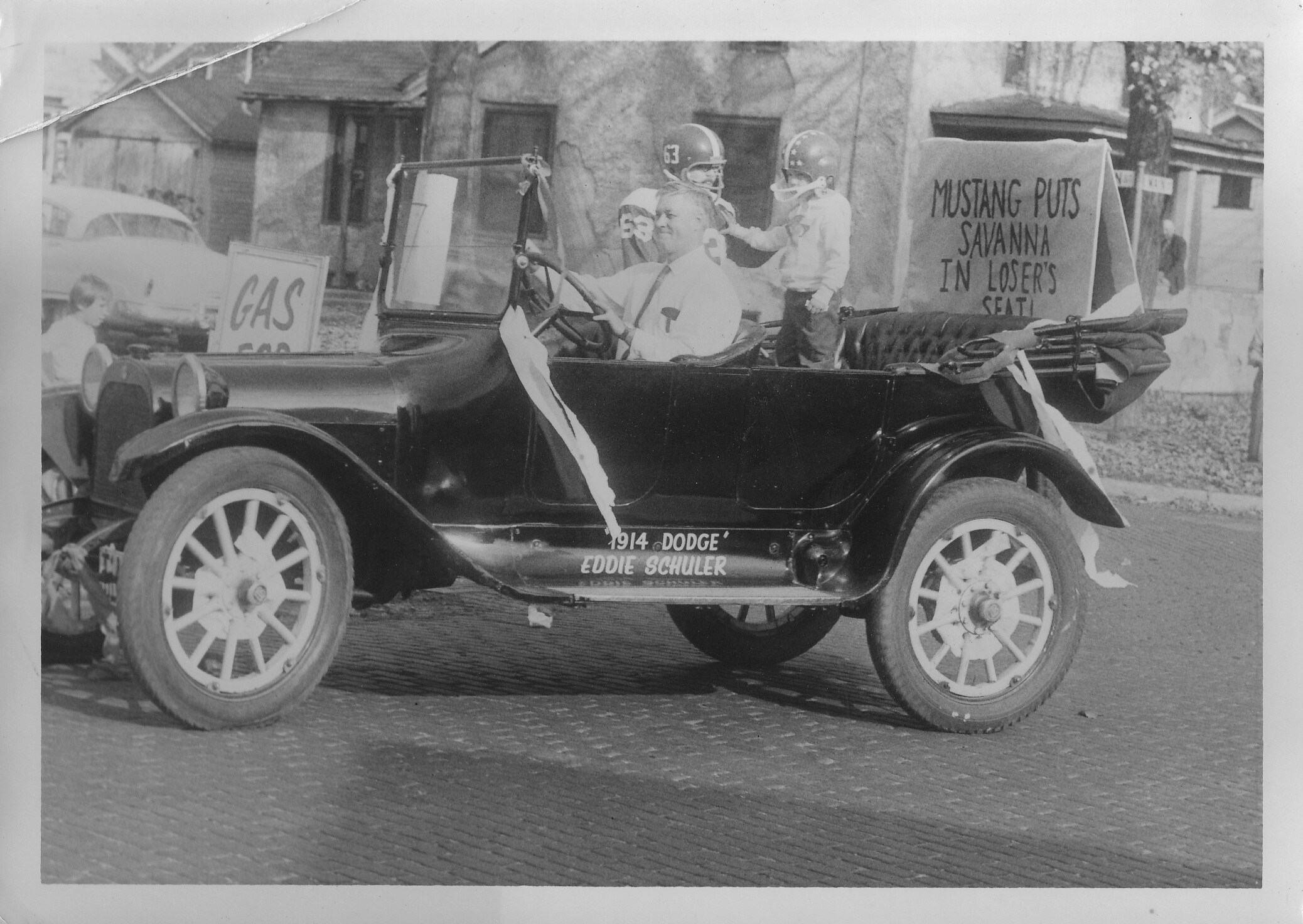 The 1914 Dodge and 1924 Chrysler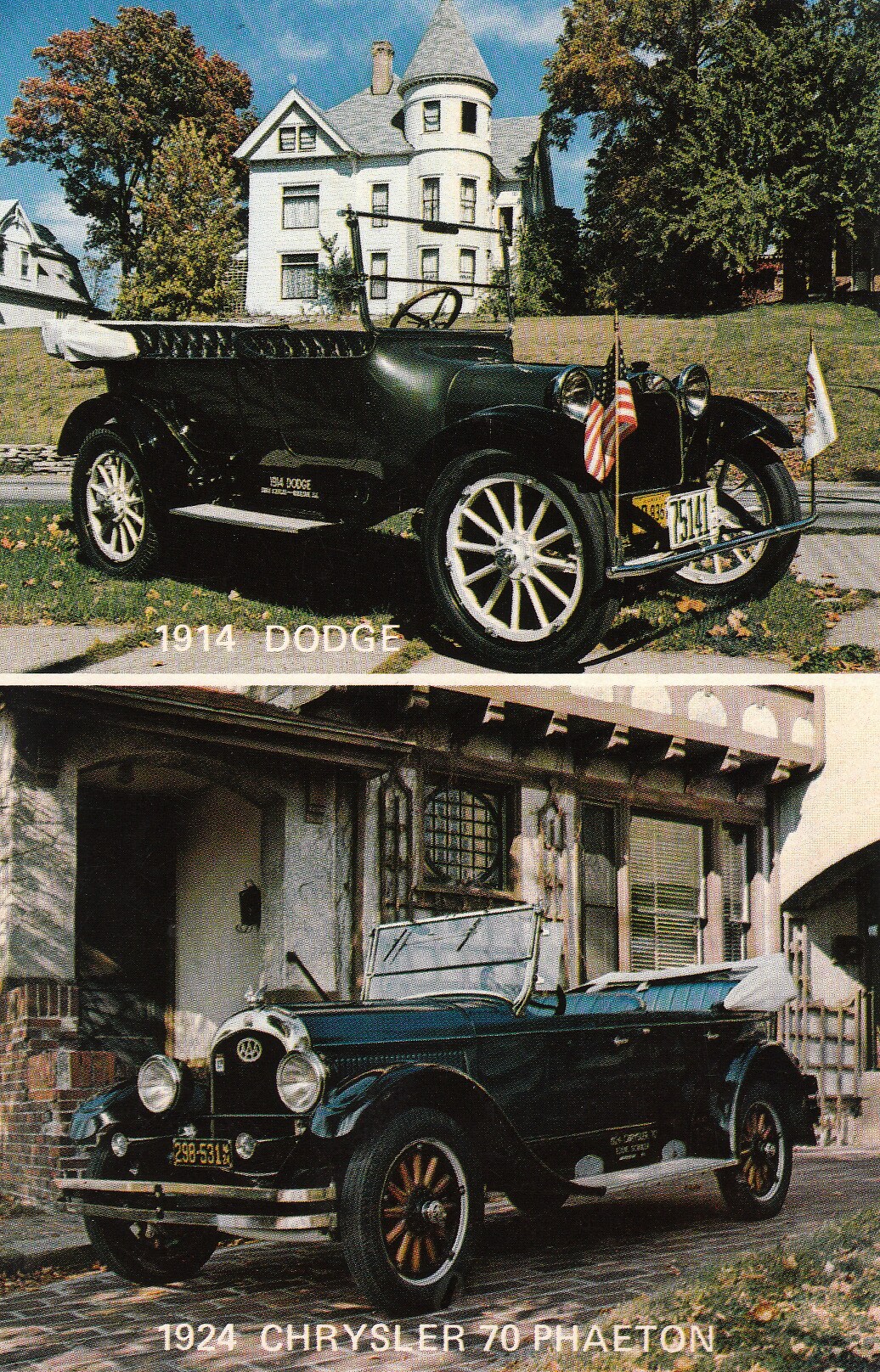 In these 60+ years of business our number one priority has been and will always remain customer satisfaction!  Three generations of the Schuler family have proudly been serving our community since 1949.  We take pride in the fact that some of our clients are lifetime customers and send their children and grandchildren to do business with us. 

Small town old fashioned dealership offering no pressure, no hassle, no harassment, just honesty and integrity.

Getting Acquainted with our New Chrysler, Dodge, Jeep and RAM Dealership, Serving Morrison, Sterling, Dixon, Geneseo and Clinton IA
At Schuler Motors, Inc., our goal is to exceed your expectations at all times. The moment your walk into our showroom, which features the latest Jeep Cherokee, Jeep Grand Cherokee, RAM 1500, Chrysler Pacifica and Dodge Dart models available, we intend to help you find a new or used car you'll love. But, our relationship doesn't end there.
Once you drive your new vehicle off the lot, you want to make sure that you get as much good use of out of it as possible. That's where our car service and repair center comes in. If you buy or lease a vehicle from us, you're getting quality maintenance with certified Chrysler, Dodge, Jeep and RAM parts that are also available for purchase. Basically, you'll know your vehicle is in good hands, from beginning to end.
You're also in good hands with our team of Chrysler, Dodge, Jeep and RAM lease and loan specialists. They take the stress out of the situation and work to make sure you have a pleasurable experience, while also meeting your financial needs.
So, what's the quickest and easiest way to experience this unmatched service? Schuler Motors, Inc. can easily be contacted online or by phone. Or, swing by and see us in person. Our showroom is conveniently housed at 727 West Lincolnway Morrison, Illinois, and we're are always happy to chat about new vehicles and answer any questions you might have.